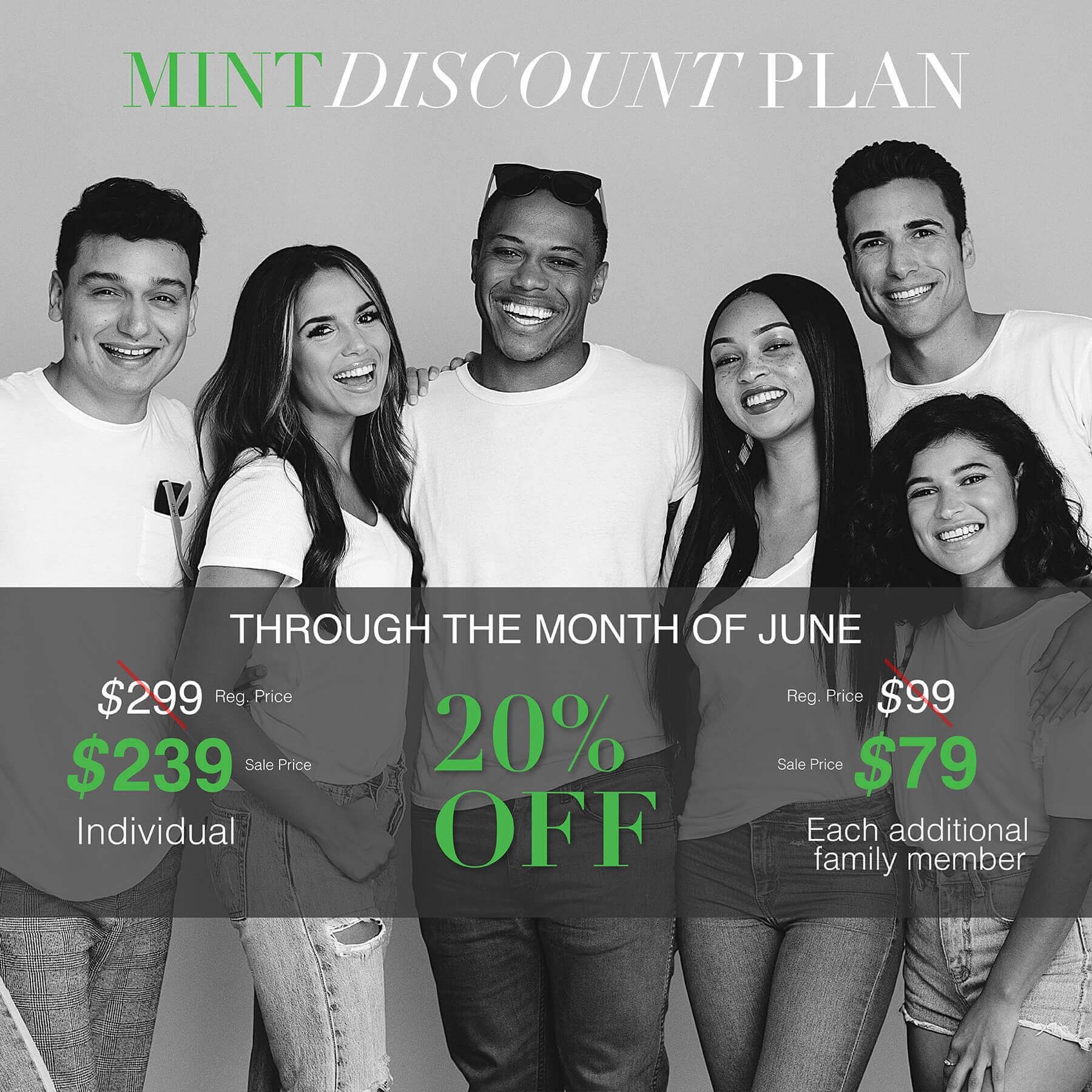 No PPO Plan?
No Problem
The MINT Discount Plan is the perfect solution for individuals and families without PPO dental insurance. This is not an insurance plan, but a discount plan good only at MINT dentistry that offers discounts on the greatest range of dental services.
Finally, a perfect plan for parents and children. Adults can save thousands of dollars a year.
Free exams, free cleanings, free x-rays, free whitening plus substantial discounts on almost every procedure at MINT. This means you and your family don't have to worry about not having PPO dental insurance. Because you're now part of the MINT family.
Annual
Cost
$299
$239
Individual
$99
$79
Each additional family member
Plan
Features
Free whitening – 2x a year
Free cleaning – 2x a year *
No dollar caps on services
Free exam – 2x a year
Free x-rays – 2x a year
No limits on number of visits
No waiting periods
No claim forms to submit
No deductibles or maximums
* Does not include Deep Cleaning
Your
Savings
Procedure
UCR Fee *
Member Pays
Savings
Comprehensive Exam
$128
No Charge
$128
X-Rays
$157
No Charge
$157
Adult Teeth Cleaning
$124
No Charge
$124
Child's Teeth Cleaning *
$88
No Charge
$88
Panoramic Radiographic Image
$145
No Charge
$145
Whitening
$500
No Charge
$500
Porcelain Crown Includes Buildup
$1,862
$850
$1,012
Deep Cleaning / Scaling and Planing
$300 / quad
$75 / quad
$225
* 13 or younger is considered a child's cleaning
Join
Now
Begin your new dental experience and enroll today by completing the online application. Once your payment is processed, eligibility begins immediately.
Filling out this form does not make you an appointment.
THIS IS NOT INSURANCE. The MINT Discount Plan provides discounts to plan members for a complete range of dental services provided by MINT dentistry. MINT Discount Plan members are obligated to pay for their dental services at the plan rate. This program is non refundable and not transferable to another person. This plan's benefits are automatically terminated upon your activation of a PPO dental insurance plan. As a parting gesture we will give you a coupon for one free dental cleaning good for twelve months.